To help three-year-old Aaradhya Mule find a donor heart for transplant, 2,000 students from Mahatma Gandhi Mission's College of Journalism and Mass Communication (MGM), along with Jawaharlal Nehru Engineering College (JNEC), took up My Medical Mantra's #SaveAaradhya cause on Valentine's Day.
They decided to celebrate the day differently and held a social media campaign to spread maximum awareness on organ donation, so that the three-year-old gets a donor heart.
My Medical Mantra has been following Aaradhya's progress closely and has also appealed to its readers to spread a word about her desperate need of a heart donor through #SaveAaradhya campaign. (Kindly see the links below to read Aaradhya and her parent's struggle to arrange funds and a donor heart for her over the past ten months.)
Rekha Shelke, Principal, said, "We came to know about Aaradhya through My Medical Mantra's initiative. Our students decided to take up the cause on Valentine's Day to celebrate it differently, by reaching out to maximum people and making them aware of importance organ donation. Our students of engineering and journalism courses held posters of Aaradhya requesting people to spread awareness on organ donation."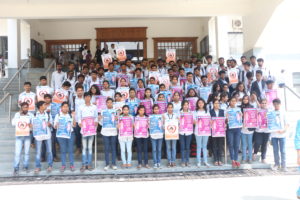 The Navi Mumbai child, who is suffering from end-stage heart disease, has been struggling to find a suitable donor heart transplant for last six months. Doctors have said she does not have much time and the only solution is a heart transplant.
So, to ensure that she gets a heart as soon as possible, the students took to Facebook, Twitter and Instagram to spread awareness about #SaveAaradhya campaign.
To support students, Dr Sudhir Kulkarni (Vice-Principal of JNEC), Ankush Rao Kadam (Secretary of MGM), Dr Harirang Shinde, Dr Ravi Deshmukh, Professor Annadate were present at the event, along with Dr Shelke, Dr Asha Deshpande, Dr Vishakha Gorkhedkar, Dr Kavita Soni, Professor Vivek Rathod, Professor Sadhna Gaikwad and Professor Sharmishtha Bhonsle.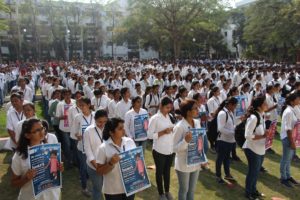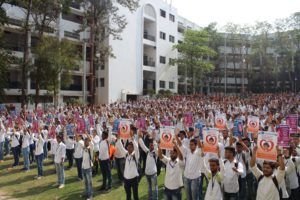 Dr Vijay Agarwal, Paediatric Heart Transplant Surgeon, Fortis Hospital, under whose care Aaradhya is being treated, said as only 10% of her heart is presently functional, they have to medically manage her disease. For which, she has to be admitted every fortnight.
"Aaradhya is admitted to the hospital after every 15 days, wherein she is given a medicine intravenously for 48 hours. We will have to continue this till we get a donor heart for her heart transplant. We are in touch with all children hospitals, neurologists, and emergency care units of Brihanmumbai Municipal Corporation (BMC) hospitals to get a suitable donor heart for Aaradhya. So far, we haven't succeeded," said Agarwal.
Aaradhya needs a donor whose body weight is around 25-30kg with blood group A +ve / A +ve / O +ve / O-ve.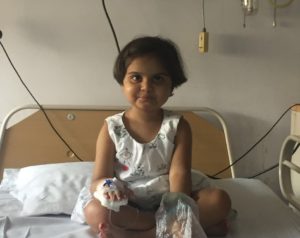 "It is the biggest challenge to get a paediatric donor heart across the country. We are ready to fly in donor heart from any part of the country provided we get one. We need a lot of awareness on organ donation among paediatric population to save many other kids like Aaradhya," said Agarwal.
Aaradhya was in playschool last year when she was diagnosed with end-stage heart disease. Her parents, Yogesh and Pratibha Mule, had to cancel her admission to a nursery school after she was diagnosed with end-stage heart disease or Dilated Cardiomyopathy. Doctors said the reason behind Aaradhya's heart failure is viral myocarditis, a viral infection affecting heart's function.