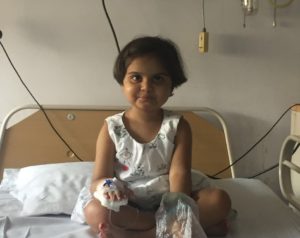 On Thursday (February 10), Aaradhya Mule was admitted to hospital for ninth time since April last year. The three-year-old, who is suffering from an end-stage heart disease or Dilated Cardiomyopathy, is in need of a heart transplant and Fortis Hospital's hunt for a heart donor still continues.
The hospital has been relentlessly searching for a brain dead patient weighing below 40 kilos with blood group A+ / A- / O+ / O-ve.
Doctors say time is running out of Aaradhya's hands and the only way to save her is a heart transplant. Aaradhya was diagnosed with the disease in April and her parents have also desperately trying to spread awareness about her condition to get a suitable donor heart for transplant.
"She ideally needs a donor whose weight is 25 to 30kg. We are in contact with all transplant hospitals and authorities and are looking for a suitable donor," said Dr Vijay Agarwal, Paediatric Heart Transplant Surgeon at Fortis Hospital, under whom Aaradhya is taking treatment.
My Medical Mantra has been following Aaradhya's progress closely and has also appealed the readers to spread a word about her need. (Kindly see the links below to read Aaradhya and her parent's struggle to arrange funds and a donor heart for her over the past ten months.)
So far, Mumbai has had six paediatric heart transplants. The youngest paediatric heart transplant patient in Mumbai is a seven-year-old girl from Goregaon, who was operated last year.
"The donor for her was a seven-year-old boy, who belonged to an Australian-based Indian family. He was brain dead. His family was aware of importance of organ donation. We need to intensify our awareness campaigns among Indians and that kind of awareness in India can helps save Aaradhya," said Dr Swati Garekar, Paediatric Cardiologist, Fortis Hospital.
As per the International Society for Heart and Lung Transplantation, approximately 500 to 600 paediatric heart transplantation procedures are performed worldwide each year, representing about 12% of total number of heart transplants performed.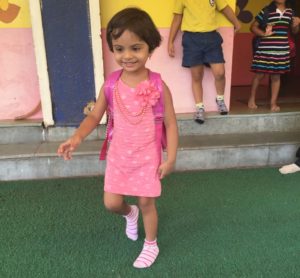 "We need improved awareness not just in the society, but also in doctors' fraternity to encourage heart donation. Many potential donors are not identified," said Dr Bhupenda Avasthi, Founder and Managing Director, Surya Mother & Childcare.
He said compared to adult donors, organ donation among paediatric population is rare.
"Identifying a brain dead paediatric patient, approaching his / her parents in breaking news of their child being brain dead as well as counselling them for organ donation needs to be done with care. It is a challenging situation as while in one case, parents are still trying to cope with their child's death and in the other, parents are struggling to save their child. Unlike adult donor's relative, immense care has to be taken by doctors and transplant coordinator," said Avasthi.
Agreeing to Dr Avasthi, Dr Mukesh Sankhlecha, Paediatrician at Bombay Hospital, said doctors and transplant coordinators have to motivate brain dead child's parents to save a life.
"Each hospital's paediatric team has to identify a brain dead child. The demand is huge than the supply and only through increased awareness, we can boost paediatric organ donation numbers. With this, not only will we save Aaradhya, but many like her who are in dire need of an organ transplant," said Sankhlecha.
In Aaradhya's case, she had an infection leading, which led dilated cardiomyopathy.
"Aaradhya had viral myocarditis, which is a viral infection affecting function of the heart. Only 5% to 1% of all paediatric heart transplant cases are related to viral myocarditis. While in some cases, patient recovers, very few have a heart failure and need transplant," said Agarwal.
Conditions that might necessitate heart transplantation maybe divided into four categories
Errors in the formation of the hear
Cardiac tumours
Infections
Toxins (either endogenous or exogenous) that damage myocardium