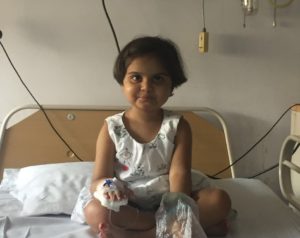 Taking ahead My Medical Mantra's campaign to #SaveAaradhya, a medical student has started an online petition for Aaradhya. The aim is to reach out to youngsters and spread awareness on organ donation.
Ashwini Kawade, a student at MGM Institute of Health Sciences, said the online petition on change.org has been started to spread awareness on organ donation. "Aaradhya is a little angel who needs a donor heart for transplant at the earliest. By donating heart, one can gift the child a new life," said Kawade. Click here to sign the petition
Aaradhya, who lives in Navi Mumbai, was in playschool last year when she was diagnosed with end-stage heart disease.
She needs a donor heart whose body weight is around 25-30kg with blood group A +ve / A +ve / O +ve / O-ve. Presently, only 10% of Aaradhya's heart is functional and she has to be admitted to the hospital every 15 days, wherein she is given a medicine intravenously for 48 hours.
Doctors said the reason behind Aaradhya's heart failure is viral myocarditis- viral infection affecting the heart's functioning.
My Medical Mantra has been following Aaradhya's progress closely and has also appealed to the readers to spread a word that she desperately a heart donor through #SaveAardhya campaign.
"Organ donation awareness will save many more lives like Aaradhya. In paediatric cases requiring a heart transplant, donor's heart should match size of recipient's heart. We, therefore, need a paediatric donor. While we are seeing a steady rise in adult cadaver donation, we need more awareness for paediatric organ donation. Aim of online petition is to get more organ donations," said Kawade.
To get a suitable donor heart for Aaradhya, doctors at Fortis Hospital have been in contact with various children hospitals, neurologists, and emergency care unit of Brihanmumbai Municipal Corporation (BMC).
---
Watch Do you have a 'Heart' for this 3-year-old? #SaveAaradhya (An English Documentary)
Watch मिळेल का कुणी 'दिलदार' #SaveAaradhya (A Marathi Documentary)
Click here to sign the petition
---
Related links
Save Aaradhya: A call to the nation to save a life
Mumbai Police Commissioner launches Save Aaradhya documentary
Moved by her story, visually-challenged schoolgirls join Save Aaradhya campaign
My Medical Mantra's #SaveAaradhya cause finds support from 2,000 college students
This is how we can #SaveAaradhya
Little Aaradhya's unbearable struggle continues, she is back in hospital
Has our 'heartless' society failed this father and his ailing three-year-old daughter?
As time runs out for his 3-year-old daughter, a desperate father seeks Sushma Swaraj's help to save her
Awaiting heart donor for his three-year-old daughter, father desperately prays for a miracle
On a prayer, hoping for a miracle: Three-year-old needs urgent heart transplant