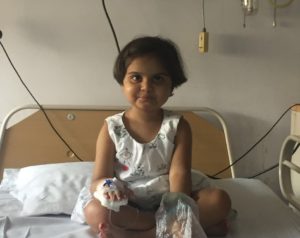 Three-year-old Aaradhya Mule is back in the hospital again. Her parents say this is the ninth hospitalisation since April last year when they first came to know that she is suffering from an end stage heart disease or Dilated Cardiomyopathy. The doctors say that the only way Aaradhya can survive is through a heart transplant. And time is fast running out for her.
"She hates getting admitted in the hospital. She wants to go to the beaches. It is very difficult for us to convince her that she has to be admitted. It is difficult to see her go through the pain," said Yogesh Mule, Aaradhya's father.
My Medical Mantra has been following Aaradhya's progress closely and has also appealed to the readers to spread a word that she desperately needs a heart from a brain dead person who should be between 3 to 7 years old. (Kindly see the links below to read Aaradhya and her parent's struggle to arrange funds and a donor heart for her over the past ten months)
Every morning, Mule makes it a point to tweet to Union External Affairs minister Sushma Swaraj and spread awareness via social media hoping that his daughter will get a donor heart.
Doctors say she has very less time in hand and needs a transplant at the earliest. "Unlike in adult end stage heart disease patients, in paediatric cases, the donor heart should match the size of the recipient's heart. We have got donor hearts but they are all adults and was therefore not suitable for Aaradhya," said Dr Vijay Agarwal, paediatric heart transplant surgeon at Fortis Hospital in Mulund.
He added that only 10% of her heart is presently functional. "We need more awareness on cadaver donation in paediatric brain dead patients. It is tough to get a paediatric cadaver donor unlike adult cadaver donations," said Agarwal.
Presently, Aaradhya is being admitted to the hospital after every 15 days where she is given a medicine intravenously for 48 hours. "She loves to talk. She wants to play with other children. But, we can hardly help to live a normal life. She is homebound and can't play like other children as she gets breathless," said Mule.
Doctors at Fortis Hospital are doing their bit of connecting to every hospital possible in search of a brain dead child whose blood group will match Aaradhya and she will get a second chance to live life.
Aaradhya was in playschool when she was diagnosed with the end stage heart disease. Mules had taken her admission for nursery school which they had to cancel because of her ailment. "She is fighting the disease with a smile. She has now made friends with the security guards, doctors, nurses. At hospital, she kills her time watching her favourite cartoon characters Doremon and Chhota Bheem on YouTube," said Mule.