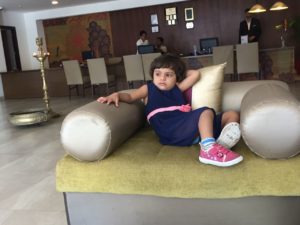 For Yogesh Mule, time is fast running out to save his three-year-old daughter Aaradhya, who was diagnosed with end-stage heart disease in April last year.
In his relentless efforts to save his daughter, Mule has taken to twitter to seek Union External Affairs Minister, Sushma Swaraj's help. Mule is hoping that Swaraj will help him find a suitable donor heart for Aaradhya.
@SushmaSwaraj 3.7 old daughter need heart transplant lac of awareness keeps her waiting tried to reach media but no response please help. pic.twitter.com/WPYjzSmGjc

— Yogesh (@1yogeshmule) January 28, 2017
"Doctors said she needs a heart transplant at the earliest. We are racing against time and hoping for a miracle. Every day, I tweet to Sushmaji because she has helped many who tweeted to her seeking help," said Mule.
On December 28, 2016, My Medical Mantra had reported about the family's struggle to arrange for funds and find a cadaver donor for Aaradhya. Though Mule, an insurance consultant, has arranged for the funds needed for operation, the struggle to find a suitable heart donor still continues.
Not just Mule, but even doctors at Fortis Hospital are doing their bit to save Aaradhya's life. They have connected with every hospital in search of a brain-dead child whose blood group can match Aaradhya's.
"We had heart donors, but it wasn't suitable for Aaradhya. Unlike in adult end-stage heart disease patients, in paediatric cases, the donor heart should match the size of the recipient's heart," said Dr Vijay Agarwal, Paediatric Heart Transplant Surgeon at Fortis Hospital in Mulund.
Agarwal said the doctors are spreading a word on finding a donor heart on various social media platforms.
"We have very less time in our hands to save her," added Agarwal.
In last three months, Aaradhya has been in hospital after every 15 days.
"She needs a medicine that needs to be given intravenously for 48 hours every fortnight. She is homebound. She cannot play like other kids because she gets breathless," added Mule.
Aaradhya was in playschool when she was diagnosed with end-stage heart disease. Following her diagnosis, Mule cancelled her nursery admission.
"We teach her at home. She is fighting the disease with a smile. But the most difficult phase is her hospitalisation. She starts questioning why we admit her to hospital every time and have stopped taking her to beaches. She reminisces about the Kashid beach trip we made in December 2015," said Mule.
Mule is reaching out to maximum number of people via social media.
"There may be many paediatric brain-dead patients, but their parents may not be aware of Aaradhya's case. Their one decision will give a new birth to my daughter," said Mule.
Related links
Awaiting heart donor for his three-year-old daughter, father desperately prays for a miracle
On a prayer, hoping for a miracle: Three-year-old needs urgent heart transplant