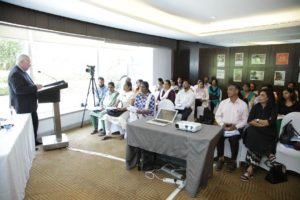 According to National Burns Programme, burn injuries have claimed 91,000 lives of women in a year in India.
The startling figures were revealed at a conference 'Building a Holistic Support System for Women Burn Survivors of Violence', which was held on Saturday, wherein women dying of burn injuries was the central theme of discussion.
The conference was organised by International Foundation for Crime Prevention and Victim Care (PCVC), along with British Deputy High Commission of Mumbai and CEHAT, a Mumbai-based research centre.
The aim of the conference is to influence policy and practice with regards to medical treatment, documentation, access to justice and rehabilitation for women who are burn injury survivors.
Rashmi Singh, Director of Programmes at PCVC, said, "Most burn cases related to women are registered as accidents at first-hand account. Eventually, with counselling and confidence building with the victim, we come to know that it's an incident domestic or homicidal violence".
'Vidiyal' is a project initiated by PCVC, which aims at extending psychosocial support services to women burn survivors of domestic violence to help them build their social and economic resilience.
The study was conducted by PCVC in Maharashtra, Telangana, Andhra Pradesh and Delhi. This study reveals that among the total burn injuries 50% were women, 20-25% were men and 10-15% were children. And in the women burn cases 90 % cases are suicidal or homicidal.
A wide range of issues were discussed, which included accidental, suicidal and homicide burn deaths, non-acceptance of burn victim by family, ways to empower or rehabilitate burn victims, prevention and precautions, legal assistance among others. It was also proposed to include domestic burn violence in National Programme for Prevention of Burn Injuries, which aims at prevention, burns injury management and establishment of a central burn registry.
Dr Madhuri Gore, Retired Head of Burn Unit at Lokmanya Tilak Municipal General (Sion) Hospital, said, "Treatment does not get over with surgery or medication. The social acceptance of a burn injury survivor is poor and this ultimately demoralises women victims. In such cases, to make the victim independent both, financially and mentally, the process of rehabilitation plays a vital role."
Talking about financial aid for burn injury victims, Gore urged for a separate budget allocation as donations as burn treatment is the most expensive one.
"Treating a burn patient is a team effort and we need to have better trained medical staff such as general surgeons, plastic surgeons, trained nurses and support staff," Gore added.
Gore says to avoid any fire-related accidents, precautions are necessary and focus needs to be on safe cooking equipment. Also, education and awareness campaigns about fire accidents are needed," added Gore.
Other legal personalities at the event also sought active cooperation from other social stakeholders and assured for required legal assistance.
"When a citizen is aware about their fundamental rights, it gets easy for them to fight for their right. That's what we as a part of Maharashtra State Legal Services Authority do through our awareness programmes. To give further legal help for burns patients, we expect active cooperation from other social groups too," said Sanjay Yadav, Principal Secretary of Maharashtra State Legal Services Authority.
Recent data shows that there is a dip in donation of skin in Mumbai due to lack of awareness and misconceptions, which in turn makes it difficult to treat burn injury patients.
Colin Wells, Deputy Head of Mission, British Deputy High Commission, Mumbai, described the victims of burn violence a worldwide concern, "In Maharashtra, there are seven skin banks. As part of rehabilitation of burn injury victims, public awareness about skin donation is important."
The conference concluded with the need for society as a whole to come together to give equal and fair treatment to burn victims. To achieve this, wide social acceptance of burn victim, legal and financial assistance with after treatment rehabilitation and psychological support is needed.