An Appeal by Medical Education Minister Girish Mahajan to Save Aaradhya
---
Taking forward the #SaveAaradhya campaign, Medical Education Minister Girish Mahajan on Tuesday made an appeal on her behalf to the country to look for a heart for Aaradhya. The prestigious Mumbai Press Club to joined the movement and urged all to spread the message of organ donation and #SaveAaradhya far and wide.
Mahajan said, "#SaveAaradhya campaign by My Medical Mantra is a genuine effort to help Aaradhya and her parents to get a donor heart for her and also create awareness about organ donation."
He further said Aaradhya (who turns 4 years old on March 5) and her parents have been struggling to get a donor heart for the past one year. "We need to save her (Aaradhya) and we need to spread awareness on organ donation. I request all of you to participate with me in this movement," Mahajan said.
Mumbai Press Club, which has around 2,500 journalists as members, too, requested all its members to spread the message and awareness on organ donation.
"It is a one-of-its-kind social campaign and we are honoured to be a part of it. The press club will soon participate and have an organ donation drive in a big way. Organ donation is the biggest form of donation as it saves many lives. One brain-dead patient can give life to at least 7-8 people," said Dharmendra Jore, secretary, Mumbai Press Club.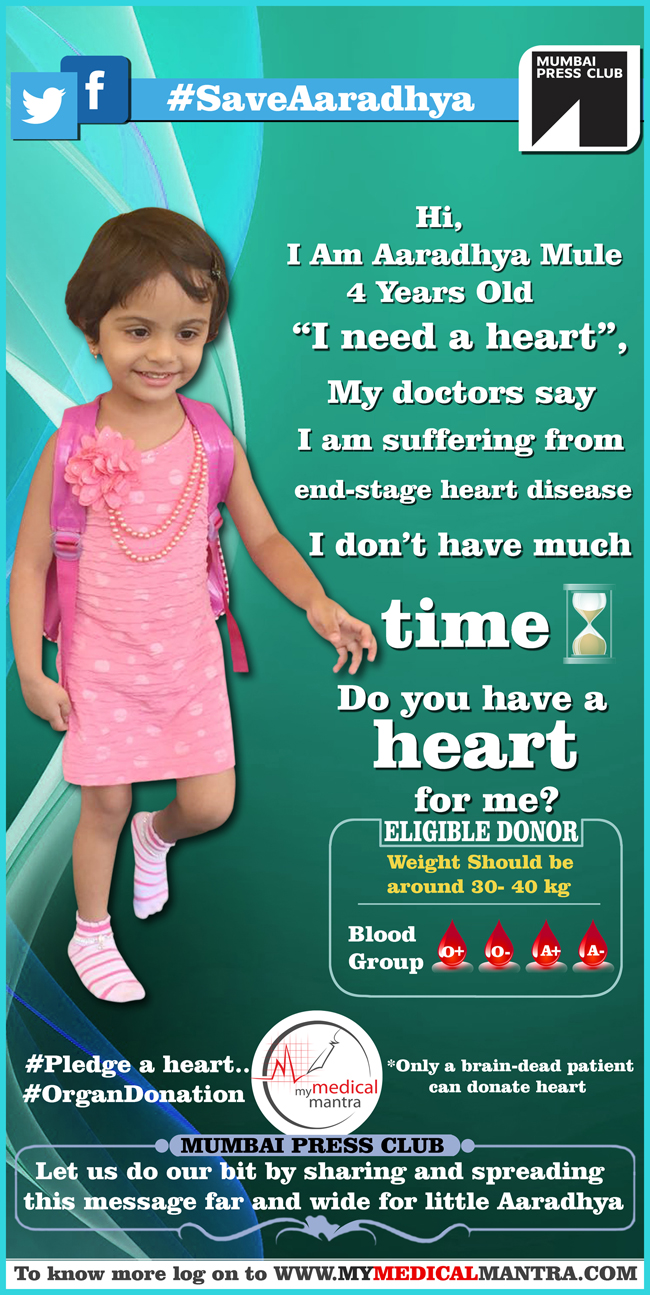 Related links
Save Aaradhya: A call to the nation to save a life
Mumbai Police Commissioner launches Save Aaradhya documentary
Moved by her story, visually-challenged schoolgirls join Save Aaradhya campaign
My Medical Mantra's #SaveAaradhya cause finds support from 2,000 college students
This is how we can #SaveAaradhya
Little Aaradhya's unbearable struggle continues, she is back in hospital
Has our 'heartless' society failed this father and his ailing three-year-old daughter?
As time runs out for his 3-year-old daughter, a desperate father seeks Sushma Swaraj's help to save her
Awaiting heart donor for his three-year-old daughter, father desperately prays for a miracle
On a prayer, hoping for a miracle: Three-year-old needs urgent heart transplant