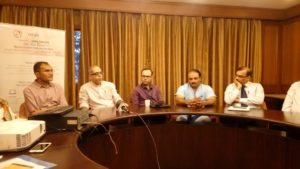 Every year, 55,000 new cancer cases among children are registered in India and last year, over 2,000 children below age 18 were treated for cancer at Tata Memorial Centre (TMC).
The data was given by TMC in a conference held on February 14 on the eve of International Childhood Cancer Day. The doctors discussed issues of paediatric cancer and how can be cured, if diagnosed at an early stage.
Dr Shripad Banavali, Professor and Head of Department (HOD) of Medical and Paediatric Oncology, said, "There is difference between adult cancer and children's cancer. Adult cancers are controllable and childhood cancers are curable. In 80 per cent instances of childhood cancer, it is curable if diagnosed at right time and given proper treatment."
Out of 2,000 cases, 1,000 cases are solid cancer and 1,000 are liquid cancer.
"Cancers such as brain and bone are solid cancers and blood cancer can be classified as liquid cancer. Blood cancer is common among children. We believe that besides curing diseases, our motto is to give quality treatment," said Dr Sajid Qureshi, Professor of Paediatric Surgical Oncology.
To make bone marrow transplant easy, TMC started The Indian Stem Cell Transplant (ISCT) group, which is a network of over 50 transplant centres across the country. Between 2012 and 2015, approximately 5,000 transplants were performed in India, of which about 1,800 i.e. 35 per cent were performed on children below age 18.
"Soon, we are coming up with a 13-storey building, which will be Asia's largest centre for cancer. We thought about this as there is an increase in cases of cancer among children and adults and our motto is to treat maximum number of patients," said Dr Navin Khattry, oncologist.
Banavali said he is often questioned how children develop cancer?
"There is no particular reason of cancer hitting any age group. We have treated cancers of children as young as 10-day-old and there are cases where cancer has developed inside a mother's womb too."
Banavali informed common symptoms to identify cancer among children are headache, continuous fever, vomiting, bone pain, among others. These are the telling symptoms and if they appear frequently then parents should take their children for a proper check-up.
Speaking about National Cancer Grid and Navya Web Portal, Dr Pramesh, Oncologist, said,
"NCG and Navya expert opinion service is a consortium of 104 cancer centres with the mandate to standardise cancer care, nationally. NCG is the largest global network of cancer centres collaborating to use technology and training to bring cancer expertise to every oncologist and cancer patient in India. It provides critical treatment opinions to parents and caregivers of children affected with cancer, especially to those who reside in places where there is no expert cancer care centres."