Dr Muffazal Lakdawala is on a mission. He wants to ensure a new lease of life for 36-year-old Egyptian woman, weighing 500 kg, who will soon be airlifted to Mumbai for obesity surgery.
Lakdawala's tweet to Union External Affairs Minister Sushma Swaraj seeking government's assistance in acquiring visa for Eman Ahmed Abd El Aty resulted in prompt response from the politician, who helped him in getting a visa for Eman.
Now, Lakdawala is busy arranging logistics to bring world's heaviest woman to India for a treatment. Though Lakdawala has previously operated upon a patient weighing 300 kg, on being asked about the next step for Eman, he said, "It's going to be a tough journey."
In an interview with My Medical Mantra, Lakdawala shares how he got in touch with Eman's family, mentions about the hurdles in store and preparations for the surgery.
How did you get to know about Eman? When did her family get in touch with you?
Two months ago, Eman's sister Shaimaa Ahmed Abd EL Aty wrote to me for medical help. Eman needed a surgery and it was necessary for her to travel to Mumbai. I wrote to the counsel general in Egypt, but due to logistical issues, they could not process her visa. Then I decided to tweet to our external affairs minister Sushma Swaraj. The minister's prompt response helped us get a medical visa for Eman and now, we are waiting for her to arrive to Mumbai.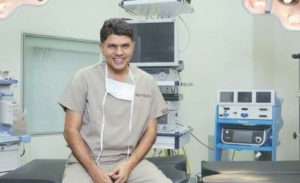 Now that the visa has been arranged and Eman is soon to be airlifted, what are the preparations you are making for the surgery?
We have been in talks with private airlines and are looking for sponsors to raise funds for her transport as well as treatment and will soon start an online campaign called 'Save Eman' for the same. She will need a private chartered flight and the family cannot afford it. For the surgery, we have a 450 kg operation table and are arranging for other equipment. We will have a multispecialty team of doctors, including two bariatric surgeons, cardiologist, endocrinologist and chest physician who will be looking after her before, during and after the surgery. Also, we have an all-women's team to ensure her comfort as she is from the Arabic world and has been looked-after only by her mom and sister, so far.
Can you elaborate on challenges you are likely to face for Eman's surgery?
The heaviest person I have operated on so far weighed 300 kg and the world's heaviest person who had undergone bariatric surgery weighed 350 kg. One of the challenges we face while operating upon such heavy person is to manage a number of diseases that they suffer, like diabetes and hypertension, which may lead to complications for the surgery. Eman has diabetes, asthma, hypertension, pulmonary embolism (a sudden blockage in a lung artery) and sleep apnoea. She had also suffered a stroke. The biggest challenge for us while operating upon Eman will be pulmonary embolism.
My Medical Mantra originally published this interview on December 08, 2016.
Related links
For the first time in 25 years, 500kg Egyptian woman steps out of her house to fly to Mumbai
Mumbai doctor travels to Egypt to meet world's heaviest woman
Weighing 500 kg, Egyptian woman to be airlifted to Mumbai for obesity surgery
At 500kg, 36-year-old woman has not left her bed for 25 years