Recognising the importance of data to treat people with rare diseases, the Indian Council of Medical Research (ICMR) has launched The Indian Rare Disease Registry on April 27 during the National Initiative for Rare Diseases (NIRD).
ICMR launched this registry in collaboration with All India Institute of Medical Sciences (AIIMS), Jawaharlal Nehru University (JNU), and PRESIDE and its first step is to identify patients.
More than 70 million people in India suffer from a plethora of rare diseases, manifesting in childhood, which remains with them throughout their lives.
Registry is important for determining the precise number of patients, age of onset of symptoms, age of diagnosis (to determine the delay for making the diagnosis), course of disease / natural history of disease.
Welcoming the move, Dr Parag Tamhankar, Divisional Head at Parel-based Genetic Research Centre, National Institute for Research in Reproductive Health (NIRRH), said, "It is a good step. There are 23,000 genes in the human body, among which only 7,000 diseases are known. We keep identifying new diseases. So, we need to have data to know other important diseases and how to tackle them with correct treatment. Also, awareness among medical experts and people about rare diseases is extremely important. This will help avoid wrong diagnoses remedy. With the help of good database, we can give proper treatment by selecting right technology."
Letter of intent is invited from interested investigators to take part in the national registry. To begin with, only few disease conditions will be considered. A disease or disorder is defined rare in India when it affects less than 1 in 2,500 individuals.
"This is a welcome step. Any move to scientifically work on rare disorders is welcomed. In the absence of open transparent information, wrong messages get circulated and patients fall prey to false marketing and commercial interests. This will be curbed by making authentic information available in the public domain and will prevent malpractice," said Dr Samir Dalwai, President – Indian Academy of Paediatrics Mumbai (IAP) Mumbai.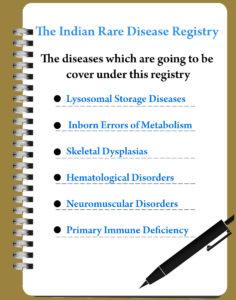 The diseases which are going to be covered under this registry are Lysosomal Storage Diseases, Inborn Errors of Metabolism, Skeletal Dysplasias, Hematological Disorders, Neuromuscular Disorders, Primary Immune Deficiency.
The scope of this registry, which will initially be hospital-based or physician-doctor based, will evolve over time, maturing from an outreach / community-building effort or a means for a basic understanding of patient and disease characteristics, to a supportive mechanism for research funding and attracting health care providers.
It intends to comprehensively cover the spectrum of rare and ultra-rare disorders prevalent in the country but initially it shall only gather data of conditions which have an established treatment available in India or globally. With time, many of the other diseases (some without treatment) would also be incorporated.
The registry will monitor:
The prevalence, incidence and natural history of disease over a period of time towards guiding policy decisions.
It will support research initiatives that aim to better understand the distribution and determinants of rare diseases.
It will facilitate access to innovations in genetics, molecular and computational biology, and other technological advances for patients suffering with rare diseases.
It will also bridge the lack of data on rare disorders in India.
It will provide access to supportive care for countless individuals suffering from these disorders.
The participants in this registry are Indian Rett Syndrome Foundation, Indian Society for Primary Immune Deficiency, Society for Hemophilia Care, India, Organisation of Rare Disorder India, Metabolic errors and Rare Disease Organization of India, Hemophilia Federation of India, Fragile X Society India.