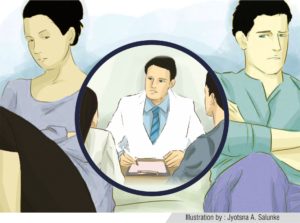 The speed at which couples are falling in love is the same at which they are falling out of it. Mumbai family court and city psychiatrists are a witness to this as numbers of couples heading for a divorce are rising by the day.
Psychiatrists say there is an upward trend in couples seeking counselling to save their marriage and in majority of cases, the trouble starts brewing in first year of marriage. However, unlike earlier when visiting marriage counsellors was considered to be a taboo, couples nowadays are not hesitant about it anymore.
Dr Harish Shetty, Psychiatrist, Dr LH Hiranandani Hospital, described this trend as social crisis.
"There is an increase in numbers of people going to court seeking divorce now and most of them are young couples. Adjustment and tolerance levels have completely reduced. It is a social crisis. Definition of marriage has been redefined now. I have observed that lack of respect and humiliation are prime reasons for rise in divorce cases," said Shetty.
Dr Sushma Mehrotra, Clinical Psychologist and Psychotherapist at Nimai Healthcare, Bandra, said, in around 30-40% counselling cases marriage is in the dumps.
"The idea of controlling women prevails among family members or husbands. But, today's women are independent, both financially and intellectually, and if they don't get the required freedom of thought, they decide to seek mutual separation rather than sticking to unwanted relationship," said Mehrotra.
Extramarital affairs, lack of adjustment with in-laws or husbands are other reasons for seeking divorce.
Dr Hozefa Bhinderwala, Consultant Psychiatrist at Saifee Hospital, receives such cases twice in a week and his word of advice for such couples is they should be more communicative and should express their views openly.
"When either of the partners expects the other person to be more like him or her, then differences or conflicts arise between couples. They themselves do not make efforts to solve their differences. Family and friends should motivate such couples to solve their problems through communication and conversations," Bhinderwala said.
Other than these reasons, Dr Sagar Mundada, Psychiatrist at KEM Hospital, said financial independence of both partners and tendency to not compromise are also enough to head for separation.
"Easy availability of social media increases risk for petty fights, increasing emphasis on individuality and rising social acceptance for divorce are also the factors responsible for divorce cases," Mundada said.
Statistics reveal that number of divorce cases filed in 2014 were 11,667 which were more than double of what were filed four years ago in 2010. In 2010 5,245 divorce cases were filed.
Dr Sagar Karia, Psychiatrist at Lokmanya Tilak Municipal General (Sion) Hospital, said, "We receive cases where husband or wife has psychiatric illness or sexual impotency. Discussion is the key solution to solve this issue."