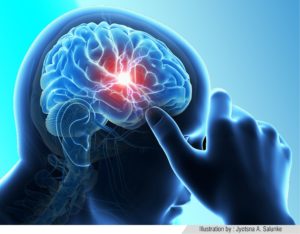 A recent study published in JAMA Neurology, a medical journal, shows a rising number of younger US adults are being hospitalised for strokes.
Doctors say that while there is no data on the same for India, unhealthy lifestyle and rampant smoking have contributed to growing number of brain stroke cases in youth, especially in metros cities like Mumbai.
While the study published in JAMA Neurology, found the biggest surge in stroke rates for adults aged 35 to 44, neurologists in Mumbai said they have observed that the age group of people getting stroke, has come down to youths in their 20s and 30s which earlier was 50 and above.
"High blood pressure, diabetes, high cholesterol, obesity and smoking are high risk factors for stroke. In the last few years, majority of youngsters have been affected by it because of an unhealthy sedentary lifestyle. We are therefore seeing a rise of stroke cases in them," said Dr Nirmal Surya, Neurologist, Bombay Hospital.
It is said the incidence of stroke in India is much higher than western industrialised countries. Doctors say since stroke is a major cause of death and disability, there needs to be awareness and a robust emergency system in place so that patient gets treatment at the earliest.
"With younger age people getting cardiovascular disease primarily affecting the blood vessels, it is all the more important that we aggressively fight the metabolic syndrome and avoid eating junk food, late night parties and drinking regularly," said Dr PP Ashok, consultant and head of neurology in PD Hinduja hospital.
He said intensive workouts can also lead to brain stroke. "Nowadays younger generation are too much into workouts. They go to gym and take weights, these weights causes them injury in their neck. Sometime these injury damages the nerves in brain causing brain stroke" said Ashok.
Talking about how to identify stroke, doctors said most commonly patients come with sudden onset of paralysis of one half of body and speech problems. "At community level a FAST test (read info graphic to learn how to detect a stroke) can be easily done by common man. It helps in detecting stroke before they can see a doctor. Loss of consciousness, loss of vision, double vision, imbalance etc. are other symptoms," said Surya.
Doctors also emphasised on need to have a dedicated stroke ambulance to bring down morbidity and mortality rate.
"Unlike a heart attack, we have very less time to save a patient getting brain stroke. Most of the time, we get patients 3-4 hours after the onset of the stroke. Time is very crucial. Given the traffic in Mumbai, a dedicated stroke ambulance will help save a patient. Urgency can save the brain stroke patient from morbidity," said Ashok. He also said people after the age of 30 should regularly go for health check-ups.