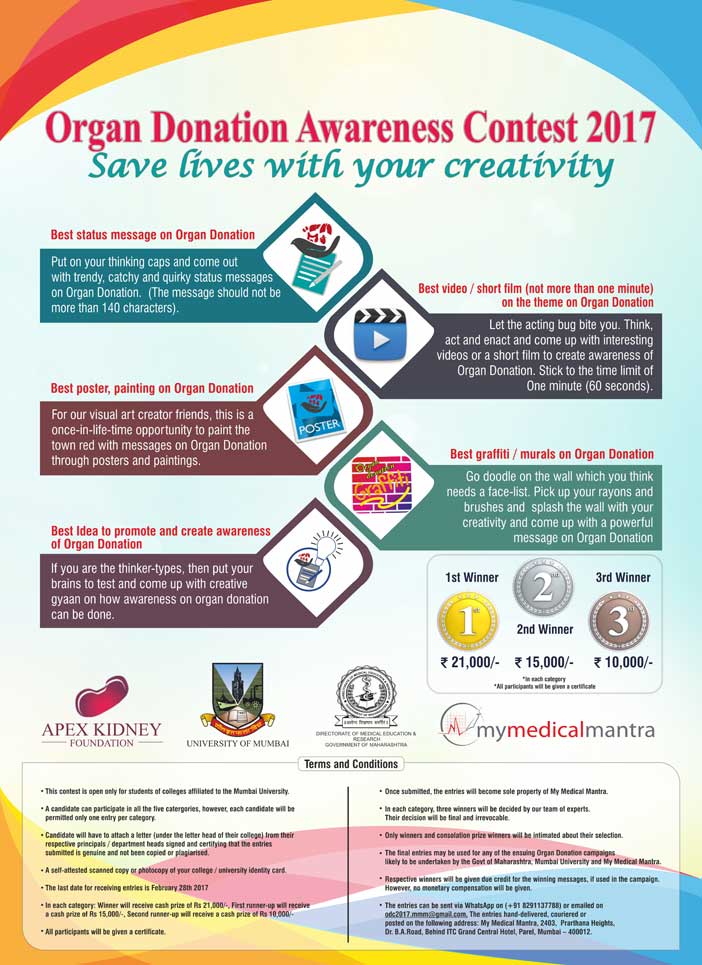 Save lives with your creativity
Best status messageon Organ Donation:
Put on your thinking caps and come out with trendy, catchy and quirky status messages on Organ Donation. (The message should not be more than 140 characters).
Best video / short film(not more than one minute) on the theme on Organ Donation
Let the acting bug bite you. Think, act and enact and come up with interesting videos or a short film to create awareness of Organ Donation. Stick to the time limit of One minute (60 seconds).
Best poster, painting on Organ Donation
For our visual art creator friends, this is a once-in-life-time opportunity to paint the town red with messages on Organ Donation through posters and paintings.
Best graffiti / muralson Organ Donation
Go doodle on the wall which you think needs a face-list. Pick up your crayons and brushes and splash the wall with your creativity and come up with a powerful message on Organ Donation
Best Ideato promote and create awareness of Organ Donation
If you are the thinker-types, then put your brains to test and come up with creative gyaan on how awareness on organ donation can be done.
Terms and Conditions:
This contest is open only for students of colleges affiliated to the Mumbai University.
A candidate can participate in all the five categories, however, each candidate will be permitted only one entry per category.
Candidate will have to attach a letter (under the letter head of their college) from their respective principals / department heads signed and certifying that the entries submitted is genuine and not been copied or plagiarised.
First Winner will receive cash prize of Rs 21,000/-
Second Winner will receive a cash prize of Rs 15,000/-
Third Winner will receive a cash prize of Rs 10,000/-
All participants will be given a certificate
A self-attested scanned copy or photocopy of your college / university identity card.
The last date for receiving entries is

February 28th 2017

Once submitted, the entries will become sole property of My Medical Mantra.
In each category, three winners will be decided by our team of experts. Their decision will be final and irrevocable.
Only winners and consolation prize winners will be intimated about their selection.
The final entries may be used for any of the ensuing Organ Donation campaigns likely to be undertaken by the Govt of Maharashtra, Mumbai University and My Medical Mantra.
Respective winners will be given due credit for the winning messages, if used in the campaign. However, no monetary compensation will be given.
The entries can be sent via WhatsApp on (+91 8291137788) or emailed on 

[email protected]


·   The entries can be hand-delivered, couriered or posted on the following address:
My Medical Mantra, 2403, Prarthana Heights, Dr. B.A.Road, Behind ITC Grand Central Hotel, Parel, Mumbai – 400012.