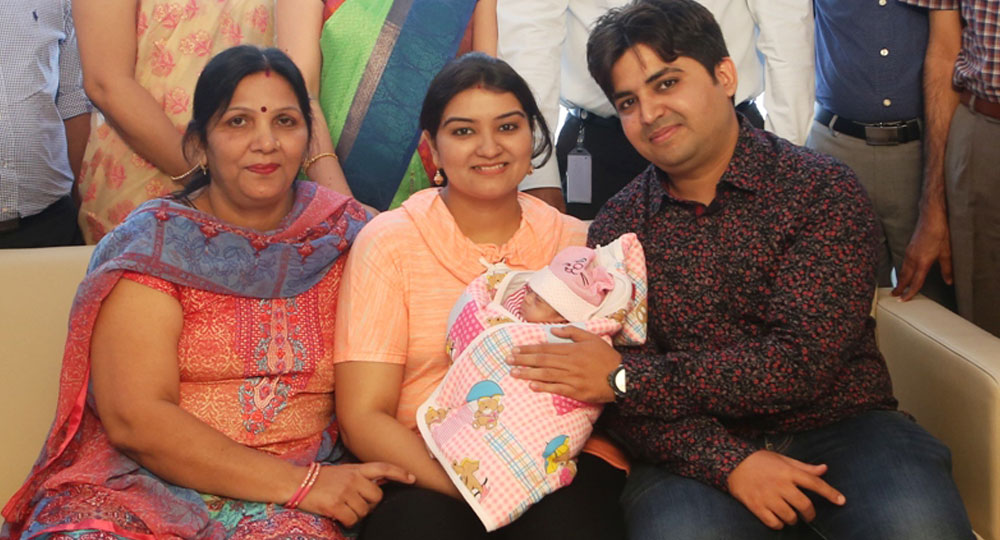 Baby girl Cherry was born to proud parents Nitika and Saurabh hailing from Chhattisgarh and delivered at Rainbow Children's Hospital in Hyderabad.
She was born premature at 25 weeks gestation (nearly 4 months earlier than expected date), under the extensive care received at the hands of a multi-disciplinary team of medical experts led by Dr Dinesh Kumar Chirla, Director Intensive Care Services at Rainbow Hospitals.
This was Nitika's 5th pregnancy. She had 4 previous abortions. This was her only chance to have a baby. Around 24 weeks, the ultrasound showed that there was very less amniotic fluid around baby. She weighed just 350 grams.
The blood flow from mother to baby was severely compromised.  There was no way the baby would have survived in womb. Nikita and Saurabh consulted many hospitals. No one gave any chance for the survival. They were then referred to Rainbow Children's Hospital.
The parents met the neonatologist at Rainbow Children's Hospital. The team assured the couple that they routinely manage babies born as early as 24 to 25 weeks of gestation.
Additionally, considering the situation that the neonatal team was ready to take up the case, Nikita was advised to deliver in Perinatal Centre. Nitika was shifted in ambulance and brought to Rainbow Hospital.
The perinatal team comprising of anaesthetist, senior gynaecologist and neonatologist all came together to make a detail plan of delivery.
On February 27, Nitika delivered baby girl weighing 375 grams. She was only 20 centimetres in length and fitted in the palm.
Speaking about Cherry's case, Dr Ramesh Kancharla, Chairman and Managing Director, Rainbow Group of Hospitals said, "We are able to send baby born with birth weight as small as 375 grams home because of our advance perinatal centre."
He said, "Close to 20 years of hard work has gone in to developing such expertise to save small babies. We need team of committed obstetrician, anaesthetist, foetal medicine specialist and neonatologist to achieve such results. Also, a very dedicated nursing team was instrumental in saving Cherry."
Elaborating on the case, Dr Dinesh Kumar Chirla, Director Intensive Care Services, Rainbow Hospital said, "The initial 3-4 days post birth are very crucial as babies are most fragile during this time. Specially, in this case, there were many health challenges like drop in the oxygen and BP level."
He added, "Owing to the size of the baby, we had to find the smallest possible breathing tube to be inserted. Moreover, the baby had a breathing problem (PDA) which normally closes in everyone after birth but did not close and was large in Cherry's case causing oxygenation problem for which we had to give special medication and keep the baby under a ventilator for breathing support. Fortunately for this child, there was no bleeding in the brain."
Dr Chirla said, "On Day 5, Cherry had bleeding in her lungs and needed to be shifted to special ventilator called High Frequency Oscillation ventilator. She was successfully managed. However, she needed ventilator for nearly 105 days. She had many emergencies from which she was successfully saved."
With expert care from the medical team, Cherry steadily gained weight and moved towards normalcy. She was discharged home after spending 128 days in hospital. She is breathing without support. She is feeding directly and maintaining her body temperature. On follow-up, she weighed 2.14 kg.
Expressing her joy, Cherry's mother Nitika exclaimed, "We had completely lost hope until we met the doctors at Rainbow Hospital. I never thought I would see my baby alive. After going through so many odds, she finally is coming home. I am extremely thankful to the team of experts who took immense care of her."