A surgery performed to remove a massive tumour from a woman's stomach has made its way into the Guinness Book of World Records. It has been considered as the heaviest tumour in India and the world, till date.
Manju Devi, a 28-year-old woman who hails from Darbhanga in Bihar. She travelled to Mumbai seeking treatment for her peculiar condition. She eventually approached the Urology Department of Sion Hospital.
She had an abdominal lump on the right side and she was suffering through extreme pain. There was also the presence of blood in her urine for three years. The huge mass on her abdomen had disrupted her daily activities.
Devi was operated on November 07, 2016 by the team of doctors at Sion Hospital. The size and weight of the tumour, which the doctors retrieved from the patient's stomach, were of unimaginable proportions.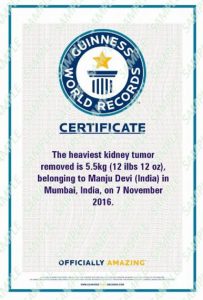 The tumour which weighed 5.5 kg (31 by 19 cm) was taken out had completely replaced her right kidney. This tumour has been documented as the world's largest renal tumor by the Guinness Book of World Records. The hospital has received the official certificate from the world record managing team of the Guinness book.
The team which performed eight hours of extensive surgery on the patient was led by Urologist Dr Ajit Sawant, Dr Prakash Pawar and Uroanesthetists Dr Geeta Patkar and Dr Aparna Nerulkar. The tumour was successfully extricated without damaging any of the surrounding vital structures.
"The surgery had various risks. The tumour was on her right side. Vital blood veins are on the right side of our body. If the tumour is massive then sometimes you have to open the chest. We had taken her family into confidence and had told them about the risks involved. I am really glad that we successfully carried out this surgery," said Dr Ajit Sawant, Professor and Head of Department, Department of Urology at Sion Hospital in Mumbai.
Dr Jayashri Mondkar, Dean of Sion Hospital said that she was really proud of the team. "I have seen the certificate. It was a complicated surgery and our team successfully did it. I am really proud of them," Dr Mondkar said.
After the surgery Manju Devi has resumed her day to day activities and now is on regular follow- ups. She visits hospital once in three months for a check-up. "She is doing really well. This incident shows that such critical and complicated issues are handled successfully in public hospitals. People should have faith on the public system and should approach the hospitals," Dr Ajit Sawant added.