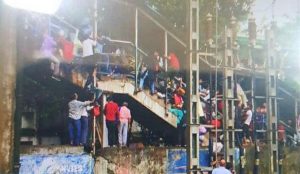 The horrific stampede claimed innocent lives, leaving many injured. "39 patients have suffered minor injuries, due to stampede, they felt suffocated. But they are fine now and will be discharged in a day or two. If required, treatment will also be given at private hospitals. And the government will bear the cost of the treatment," said Girish Mahajan, Medical Education Minister.
"KEM Hospital received about 22 dead bodies and 39 patients. All 39 patients have been taken care of. Only 2 to 3 are critical who are been looked after," said Dr Avinash Supe, Dean of KEM Hospital.
According to Dr Supe, out of 22, 19 bodies have been identified. And panchanama of 15 to 16 bodies has been done. The panchanama of the remaining dead bodies will be done within few hours and the bodies will be released after the post-mortem.
Dr Supe appealed the citizens to contact them, in case they need any help. "I request all the citizens who need any help to contact us as we have already opened the help desk at places near our registration counter as well as near the mortuary, said Dr Supe."
He added, "The emergency surgeries have been in KEM Hospital, while some routine surgeries were at hold for few hours, which have begun now."
https://www.youtube.com/watch?v=qTzV69lB35k