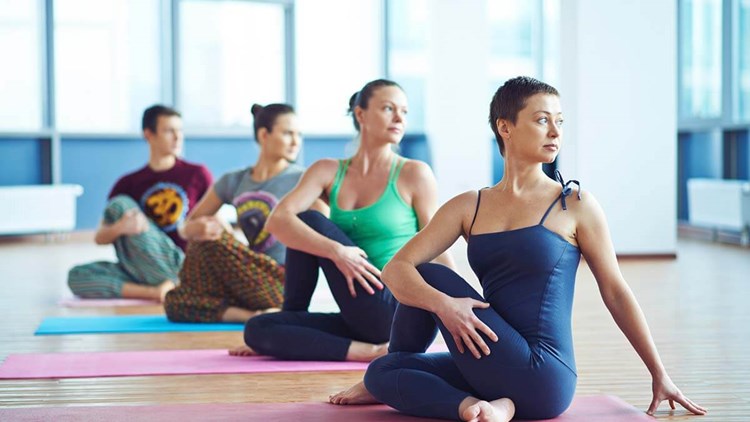 The first-of-its-kind study was jointly funded by the Indian Council of Medical Research (ICMR) and Medical Research Council (UK).
The study was done at 24 centres across India. Patients who have suffered a heart attack were asked to undergo a Yoga-Cardiac Rehabilitation program.
4,000 patients were included in the study, had suffered a heart attack or had just been discharged from the hospital post treatment.
Doctors and researchers from India have revealed that Yoga-based Cardiac Rehabilitation (CR) program is very safe, effective and minimises the risk of having a second heart attack.
In the study, the patients were asked to undergo a Yoga based Cardiac Rehab comprising meditation, breathing exercises and, a few Yoga asanas which are heart friendly. The results of the Yoga-CaRe program were presented at the American Heart Association Scientific Session in Chicago.
The study findings state,

Yoga-CaRe is safe, effective and improves the quality of life of the patient

The patient can return to the daily similar activities like prior to the heart attack

Those who attended 10 or more than 13 training sessions, the Yoga-CaRe programs was efficacious in improving the clinical outcomes reducing death and lowering the hospitalisation.
Professor Prabhakaran, Vice President, PHFI and Executive Director, CCDC and Principal Investigator of the study said, "The prevalence of ischemic heart disease in India has increased over by 50% and in terms of absolute numbers, has increased from 10 million in 1990 to 24 million in 2016."
He added, "The Yoga-CaRe Trial the largest trial on Yoga as well as cardiac rehabilitation, has shown the potential of Yoga to be an alternative to the conventional CR programs and address the unmet needs of cardiac rehabilitation for patients in low- and middle-income countries. It is safe, relatively inexpensive, does not need an elaborate infrastructure, culturally acceptable and improves quality of life."
Professor Prabhakaran added, "We have some indication that Yoga has the potential to reduce death and other complications from the study. Among those who had higher adherence to Yoga care death and other adverse outcomes were lower during follow up. This shows the need to device innovative ways of improving adherence."
While speaking to My Medical Mantra, Sandhya Patki, Principal of the New Age Yoga Institute said, "People who are suffering from heart ailments should practice Yoga asanas and pranayama. Rather than doing asanas in standing position, patients with heart ailments should perform it in sleeping position or sitting position."
"Ujjayi and Sheetali pranayama, Anullom-vilom are very beneficiary for the people with heart ailments. Ujjayi pranayama is very effective in keeping control over the blood pressure and with Sheetali pranayama the body feels relaxed. It also improves digestion. Anullom-vilom will bring internal harmony and balance in the body. But, heart patients should do Yoga asanas with proper guidance and as per their capacity," added Sandhya Patki.
Associate Professor attached to Mumbai's state-run Sir JJ Group of Hospital, Dr Nagesh Waghmare-Patil while speaking to My Medical Mantra said, "Patients who are suffering from cardiac ailments, should practice Yoga under the due guidance and as per their capacity. If while performing Yoga one feels tired and experiences chest pain, then they should avoid doing Yoga."
Professor Ambuj Roy, Professor of Cardiology at the All India Institute of Medical Sciences (AIIMS), "This is a landmark study shows that use of Yoga as a CR tool is efficacious in improving quality of life and reducing cardiovascular events among those who completed at least 75% of the sessions."
Roy added, "Modern day medicine demands evidence of benefit for interventions for its wider acceptance especially amongst medical research community. This study is a step in that direction. I hope that this study spurs several such large rigorously performed trials in other diseases where Yoga can be potentially beneficial."
Professor Sanjay Kinra, Head, Epidemiology, London School of Hygiene and Tropical Medicine, Co-Principal Investigator of the study said, "Improvements in cardiac care mean that most people nowadays survive a heart attack. The focus has therefore shifted to improving quality of life of survivors of heart attacks so that they can readjust better after such a catastrophic event and contribute maximally to their families and society. This is particularly true in India where heart attacks tend to occur at very young ages."