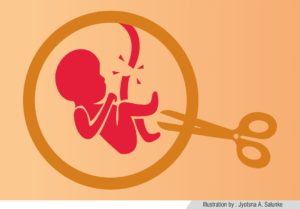 As the girl child sex ratio dips in Maharashtra, women activists are blaming the improper implementation of the PCPNDT act for this sad situation. Activist say, Pre-Conception and Pre-Natal Diagnostic Techniques (PCPNDT) act, has not proven to be a deterrent as the corrupt practices are still continuing.
Referring to the Sangli incident, where 19 female foetuses were found dumped in a stream in Mhaisal village, Chitra Wagh, former member of the State Women Commission said, "We all should think, why we as a society have failed to stop doctors like Khidrapure, from committing a heinous act, like female foeticide. This has happened as the law to curb female foeticide is not deterrent enough. And now the sex ration has gone down, which is a worrying factor, we need to take few concrete measures."
Social activist and pioneer in anti-female foeticide activist Varsha Deshpande said, "As of now we have 600 cases registered in Maharashtra under PCPNDT act, out of which 500 are still pending trial. Though the state secured conviction in lower courts, it failed in an appeal. If we take the cases to the logical end, no one would dare to defy the law."
Whereas number of doctors has also expressed their view about, how one small clerical error amounts to violation of PCPNDT act, which is needs to be change.
Dr Niranjan Chavan, Professor, Gynaecology Department at LTMG (Sion) Hospital said, "Gynaecologists who are honest to his/her profession will not disrespect the law, but the ultra sound, form which needs to be uploaded, if there is some clerical error like date, address or contact is not written it leads to violation of act, mostly it is not the doctors fault".
"The punishment for this violation of due to clerical error is rigorous imprisonment and this needs to be change. FOGSI have filed a case in Supreme Court against this law for to address the need change. This change to come because we believe the amount of punishment is should be equal to the nature of crime" he added.
Chavan also says that gynaecologists who are part of the Federation of Obstetric and Gynaecological Societies of India had pledge to not do sex determination or illegal abortion. Also we are particular about online submission of ultra sound form and data submission to BMC or local authority.
Agreeing to this Dr Arun Nayak, Gynaecologist at Lokmanya Tilak Municipal General (Sion) Hospital said, "We do not have any other issue regarding PCPNDT act. Any medical professional who breaks the law needs to be punished; there is no doubt about it. But punishing doctor for some technical or clerical error is something which is our big concern."
Dr Ganesh Shinde, gynaecologist and Dean, at RN Cooper hospital from Mumbai, "Doctors who adhere to the law and are responsible citizens. We really work hard to treat our patients. And when an honest doctor gets punished, for error in filling the form which is human error or clerical error is not right. It should be patient as well as doctor friendly".
Meanwhile, Maharashtra assembly committee had suggested, making sex determination compulsory, to bring down female foeticide cases and improve child sex ratio.
Speaking to MyMedicalMantra Nandita Shah, of Akshara NGO questioned the suggestion and said, "Making sex determination test compulsory will increase female foeticide. We do not have enough machinery to follow up all the births. It will become easy for people to abort the child if they come to know about the sex of the child. This shouldn't be allowed," said Shah.