Lifeline Express, India's only hospital-on-train, recently conducted its first cancer surgery on December 24 in Satna, Madhya Pradesh. A team of doctors from Tata Memorial Cancer Hospital, Mumbai, operated on Hiralal Lodging, a 53-year-old tea vendor suffering from oral cancer.
Two new coaches fully equipped for cancer surgery were introduced to the five-bogie train on December 7.
Idea behind Lifeline Express, which is also a first-of-its-kind in the world, is to take medical care to remotest parts of India. The train is equipped with operation theatres, pathology lab, mammography unit, gynaecology examination room, dental unit, pharmacy, consultation cubicles and X-ray room.
Speaking exclusively to My Medical Mantra, Dr Pankaj Chaturvedi, who operated Lodging, elaborates on the concept of Lifeline Express, its aim, future plans as well as his experience of being a part of the team.
Congratulations for conducting first successful cancer surgery on Lifeline Express. Can you tell more about this unique hospital-on-train?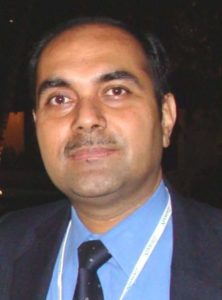 Lifeline Express is NGO Impact India Foundation's initiative and it started on 16 July, 1991. It has been 25 years since doctors have treated various diseases on Lifeline Express. Most common disease that has been worked on is cataract, as most people suffering from it are living in those regions of India where affordable eye operation or treatment is unavailable.
Similarly, doctors have also treated people suffering from deafness and children born with bifid lip. There are treatments available for diseases, but we need to make it accessible, especially those who live in rural India. So, with Lifeline Express, we aim to improve their quality of life.
With this surgery, you've become first doctor to operate a cancer patient on a train. How was your experience?
As a doctor associated with a government hospital, I believe that if there is even one person in a village suffering from a disease, then it is just the tip of an iceberg.
So, this concept of a hospital-on-train going to remote areas is appreciable, wherein patients get treatment from doctors with best possible technology. It is unbelievable that there are so many doctors in India who are willing to volunteer for Lifeline Express.
I am glad and overwhelmed that I am a part of this initiative. I believe Lifeline Express is the best platform for many to receive treatment.
When was the decision to add two cancer-special coaches taken?
Tata Hospital has been on the Medical Advisory Board of Lifeline Express. We wanted to add new features to the train to improve services.
Two years ago, while we were brainstorming, we zeroed down on cancer. Non-communicable diseases are rising quickly and cancer is one of them. So, Tata Hospital and Lifeline Express signed a Memorandum of Understanding (MoU) stating that cancer coaches will be run by Tata Hospital. Resources like doctors and technology will be provided by us.
We proposed the addition of two new cancer-coaches equipped with systems needed to diagnose and screen cancer, and treat cancers which need day-care. Fortunately, we received approval and government donated two coaches. These two coaches were inaugurated on December 7 in Delhi by Union Railway Minister Suresh Prabhu and Union Minister of Health and Family Welfare Jagat Prakash Nadda.
Why are these two coaches important?
Our aim is not only to conduct surgeries, but undertake the task of capacity building of local doctors. We collaborate with local district doctors and hospitals. While the surgery is on, we ask local doctors to observe procedures.
After surgery, patients are kept under observation for a day on train and are then shifted to district hospitals. We want local doctors to learn post-operative care as lot of them feel that once diagnosed with cancer, the patient will not live for long. Therefore, post-operative care is necessary.
Does Lifeline Express travel to places prone to cancer? How are the regions selected? What arrangements are made before the train reaches its destination?
Selection depends upon needs and requests of a particular region. At least two to three months before Lifeline Express is scheduled to arrive at the selected destination, we ask district administration to spread awareness about the train, its services and treatments provided by doctors on board.
This year, we received 1,500 patients every day, of which some required surgery, some treatment, while some required counselling.
Since it is a hospital-on-rails, what technology / equipment is used?
We use telepathology and teleradiaology so that a surgery or treatment done in the train is sent to a radiologist, who provides voluntary service through Internet. Radiologists in their respective cities receive images and they guide us.
We also have a WhatsApp group where updates about our activities are posted. For Madhya Pradesh visit, we added Satna's district collector, state health secretary, civil surgeons and district health officers in the group. Everybody is kept updated about our activities.
How is Lifeline Express different from hospitals and clinics?
Lifeline Express is hospital going to people, unlike people going to hospital. That's the only way I can describe the difference. Also, all surgeries conducted in Lifeline Express are free of cost. Around 2 lakh doctors have carried out 1.5 lakh surgeries in Lifeline Express.