There are millions of people in this country who need an organ for survival. If they get an organ, they can get a new life. Each year, hundreds of people die while waiting for an organ transplant.
There is a shortage of organs, and the gap between the number of organs donated and the number of people waiting for a transplant is getting larger.
As per the data available with National Organ and Tissue Transplant Organisation (NOTTO), 54, 110, 235 and 190 heart transplants and 720, 1024, 1368 and 805 kidney transplants have been undertaken in the year 2014, 2015, 2016 and 2017, respectively.
So, organ donation is the need of the hour.
"If not for the timely donation by the donor family in their grievous moment, this birthday wouldn't have been possible," said an overwhelming Yogesh Mule, Aardhya's father. "She is fine now and our happiness knows no bounds. The donor alone needs to be thanked."
Aaradhya was diagnosed with dilated cardiomyopathy in April 2016, which is a viral infection affecting the functions of the heart. Her parents immediately started looking for a donor heart. They faced several challenges as paediatric heart transplants are not common. Globally, only a handful of such heart transplants take place.
"We came to know of Aaradhya's heart condition on Gudi Padwa (Maharashtrian New Year). That morning she had complained of stomach ache and was vomiting. We were to leave for Pune but decided to take her to a doctor first," said Yogesh then.
Her parents were shocked when the doctor asked them to hospitalise the child and that too in the intensive care unit (ICU) as her heart beat was 180 beats/minute. Heartbeat of 80 to120 beats/minute is normal for a child of three to four years.
"Aaradhya and her family members are champions. They started off the fight with a disease, out in the open and in the process ended up increasing awareness among the general public. Not only did they increase the awareness about the disease but also about heart transplant. I am inspired by their spirit," said Dr Swati Garekar, senior paediatric cardiologist at Fortis Hospital.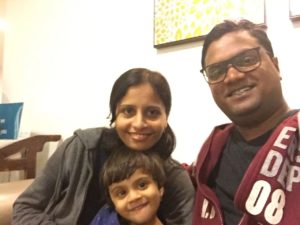 However, on September 5, 2017, she received a donor heart after which she has been doing very well now. "Everything that has happened in this past month has been a miracle for us. My angel, Aaradhya will finally be free of any ailment. We, as parents have gifted her new heart and she has gifted us a new life now," said Yogesh then.
Save Aaradhya to Aaradhya saved, My Medical Mantra's online campaign to get a donor heart for this 4-year-old Navi Mumbai girl succeeded in September 2017 after parents of a 14-month-old brain dead child from Surat agreed to donate his heart, thereby giving Aaradhya a new lease of life.