Soumya Swaminathan, director general of Indian Council of Medical Research (ICMR) said the body will be proactive in taking a stand on matters like uterus transplant. In an interaction with My Medical Mantra, she shared that the new central ethics committee under ICMR is working out the advisory role the body can play in cases like uterus transplant, a non-life saving procedure. Swaminathan said that ICMR now wants to work with state governments to develop standard guidelines for non-communicable diseases.
Swaminathan was in Pune to inaugurate, All India Medical Students Conference, Respirare 2017, on Friday at B J Medical College.
My Medical Mantra (MMM): What is your take on uterus transplant, which is a non-life saving procedure, at a time when experts are demanding ICMR to formulate guidelines on procedures like uterus transplant?
Soumya Swaminathan (SS): We cannot formulate guidelines for every procedure. There are always advances happening in medicine. Doctors keep on inventing new things. In this particular case, it was a bit extreme in the sense that uterus transplant is not a life-saving procedure. It does not come under the realm of research, which is why it never came to the Indian Council of Medical Research (ICMR). If some doctor wants to try a procedure, he does not necessarily need to come to ICMR. You can take patients' and local health department's consent. We do not specifically cover organ transplant that is governed by National Organ and Tissue Transplant Organisation (NOTTO).
We have reconstituted our central ethics committee, which met last week, and we discussed the issue of uterus transplant. We discussed what stance needs to be taken by the ICMR central ethics committee if such an issue comes up. Our role may not be a regulatory, but it will be advisory. Since this is a non-life saving surgery, we are discussing the kind of advisory role we can play. In future, we will look proactively into these issues.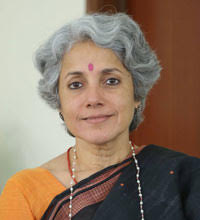 MMM: Recently, ICMR tied up with the Telangana government to prepare a standard protocol for hypertension. What will be ICMR's role in the field of non-communicable diseases (NCD)?
SS: We do not have proper strategy right now to regulate and develop modalities for treating non-communicable diseases. We want work with state governments on this. Delivery of care for chronic disease is important and developing models and testing different strategies for the same is what we want to work on.
Once someone is diagnosed with diabetes or hypertension, how do you put them on the right kind of treatment and then keep them on lifelong treatment? Who will monitor the course of treatment and manage drugs that are administered? Who will manage complications? These are the points we want to work on.
We are also looking at some non-invasive and new technologies – technologies for monitoring including mobile health decision health system for health workers.
MMM: What about research in the field of NCDs?
SS: Doctors are bound to be confronted with several challenges. In order to attain sustainable development goals and control NCDs, research is imperative. It is important for Indian medical system to look at medicine in different way with interdisciplinary approach.
MMM: Though the guidelines on stem cell are out, experts say that the procedure is still expensive. Can you throw light on this?
SS: The fact that the procedure is expensive is different issue, and it is not under our jurisdiction. Stem cells should be applied only in haematological conditions and genetic disorders. The guidelines were essential to control malpractices.