The 24-weeks extension for medical termination of pregnancy is need of the hour, says Dr Rishma Dhillon Pai who took over as president of the Federation of Obstetric & Gynaecological Societies of India (FOGSI), the umbrella body of gynaecologists in India which has 34,000 members. In an exclusive interview with My Medical Mantra, Pai talks about several important issues like PCPNDT, C-Section delivery and the impending ART.
What are your plans as FOSGI president?
There will be 250 workshops on different subjects of obstetrics and gynaecology across the country. One common feature will be an hour discussion on medico-legal aspects and emphasis on communication. In my tenure, the focus is to reach out people and improve doctor-patient relationship. We are also focusing on having programmes improve health of women.
We start our year with a unique youth summit where hundreds of youngsters will get together and share ideas, get informed, learn and teach and help towards building a healthier India.
We will be carrying out interactive sessions on health and nutrition across 150 schools all over the country. FOGSI strongly believes in women empowerment hence at each of these 4 Yuva conferences, three women achievers from that zone will be honoured and recognised. We have made a befitting slogan for FOGSI – 'Medical Excellence – Compassionate Care'
What else is being planned?
We are starting two new publications this year. "FOGSI Connect' our quarterly newsletter will keep members informed about all the FOGSI activities and will have the latest scientific articles. 'Reaching Out'- the Presidents Quarterly Newsletter, will be like a conversation that I would like to have with all 34,000 members. We are launching the GREAT APP, where all the FOGSI FOCUSES, latest guidelines etc will be uploaded as will be many power point presentations on important subjects.
A monthly survey is being initiated with a view to understand trends and practices amongst the gynaecologists of India. A new publication called 'Fogsi Future' on the subject of New drugs in Obstetrics and Gynaecology' will be released written by these young gynaecologists.
Our important core activities of PCPNDT Act, Violence against Women, Violence against Doctors, Youth Cell , ART Bill 2014 Regulation which are all of crucial importance to us continue to be worked upon actively.
Gynaecologists have been demanding amendment of The Pre-Conception and Pre Natal Diagnostic Techniques Act (PC-PNDT) Act. How are you going to handle the growing dissident among gynaecologists on the same?
Our theme this year is 'She matters. Care, educate and transform'. We support PCPDNT Act in principle. Unfortunately, the focus of the ACT has shifted from reducing female foeticide to pulling up the doctors for technical glitches like not wearing apron, incomplete filing of the form etc. The sonography machines are sealed for technical faults which is wrong as the livelihood of the doctor is at stake along with his / her reputation.
There is a strong demand among doctors to change the PCPNDT Act. While we are doing our best to bring this in to the notice of the government, at FOGSI this year, we have sanctioned funds to organise workshops across the country for doctors and educate them on PCPDNT Act. We are going to train our doctors on how to stick to the law and ensure there is no violation.
Abroad, we have guidelines and protocols in place for treatment of different diseases / conditions. At FOGSI, are we planning to have our own guidelines too?
We have already released two check-lists on how to handle pre-term labour and premature ovarian failure. We have also collaborated with Royal College of Obstetricians and Gynaecologists (RCOG). They have some fantastic guidelines and protocols for various obstetrics and gynaecology diseases / conditions. Taking their guidelines / protocols as our base, we will formulate our own.
There is a general debate on rising C-section deliveries in the country. Will we see guidelines on vaginal delivery and C-section delivery too?
Vaginal and C-section delivery is one of the obstetrics and gynaecology areas that we will be working on to set a guideline / protocol but even RCOG do not have guidelines for it. It is very difficult to make a specific guideline for vaginal and C-section delivery as every patient is unique. There is a general public conception that C-section delivery is preferred over vaginal delivery for money but that is not true. While there is a gradual rise in C-Section deliveries across the world, there is a dip in maternal mortality rate.
Number of children born with conditions like cerebral palsy has dipped dramatically thanks to advancement in technology. We are able to pick up complications at the earliest and accordingly decision for vaginal delivery or C-section delivery is taken.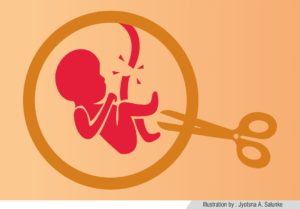 In last one year, three women have approached the Supreme Court to seek permission to abort their unborn child with a serious developmental defect that is incompatible to life as they had crossed the 20 week deadline. There is an increasing demand among gynaecologists to extend the 20 week medical termination of pregnancy deadline to 24 weeks. What is your stand as FOGSI president?
Every patient cannot approach the court of law to seek permission. Pregnancy is a very private matter. No one wants it to make it front page news and being discussed in public domain. FOGSI has a stand that we need an extension of MTP to 24 weeks. The period between 20 weeks and 22 weeks offers good opportunities to check for cardiac anomalies in foetuses through a sonography.
Also, out of metro cities, the women still do not register to hospital for delivery before 7 months of pregnancy. The anamolies are picked up late in such cases and by the time they are referred to bigger institution, second opinion is taken, the woman crosses the 20 week deadline. As a FOGSI president, I will try and bring these concerns to the notice of the government.
The Surrogacy (Regulation) Bill, 2016 proposes a ban on commercial surrogacy. What is your take on the same?
It has been a subject of discussion and concern among doctors. While it is good that surrogacy is being discussed, there is need for rules and regulations, guidelines, at the same time it has to be moderate. All stakeholders that includes infertile patients, surrogate mothers, doctors and law makers have to come together to make the law.