The woman who hails from Vadodara, Gujarat, who underwent a uterus transplant surgery, has delivered a baby girl. She was the second person in India to undergo a uterus transplant.
On the occasion of Dusshera, it is a matter of great pride for Indians and the entire medical fraternity in India. As a doctor in Pune has created history by successfully delivering a baby girl by a mother who was the recipient of a uterus more than a year ago.
The medical fraternity in Mumbai and doctors across the country welcomed the birth of this child and the good news which came along with it. The birth of this child is a positive sign for women who cannot have their own child due to fertility issues, or other uterus related disorders.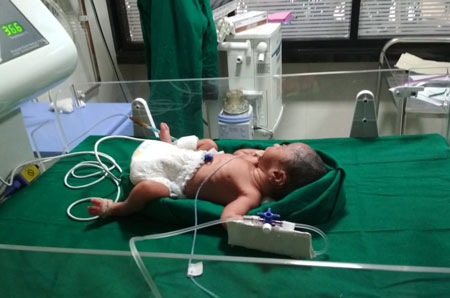 While speaking to My Medical Mantra, Dr Niranjan Chavan, Joint Secretary, Mumbai Obstetrics & Gynaecological Society (MOGS) Society, said, "This is indeed a very good achievement. I would like to congratulate Dr Puntambekar and his team for excellent achievement. This is a very proud moment for India and Asia, as well."
The birth of this child symbolises a ray of hope for women in the continent of Asia and others across the world who cannot conceive through natural means.
Dr Archana Patil, Chairperson Lifecare Hospital and Research, Udgir, Maharashtra, said, "This is the moment of proud, for the entire medical fraternity in India. First, the mother who gave birth donated her uterus to her daughter. So, that the daughter can also experience motherhood. And then Dr Puntambekar and his team did the magical job. We all are feeling proud that Asia's first uterus transplant surgery has been done in India. I would like to congratulate the entire team."
Dr Muffazal Lakdawala, a renowed Bariatric surgeon tweeted, "Well done Shailesh Puntambekar and Neeta Warty what an achievement. You make us all proud to be part of the Indian medical community. Super job guys."
Well done @ Shailesh Puntambekar and @Neeta Warty what an achievement. You make us all proud to be part of the Indian medical community. Super job guys https://t.co/8PACiI8sV6

— Dr Muffi Lakdawala (@DrMuffi) October 18, 2018
Dr Meenakshi Deshpande, gynecologist from Pune, said, "This is a great achievement in the medical field. We all doctor's are feeling proud that a doctor from Pune has achieved this. This is an inspiration for other doctors too."